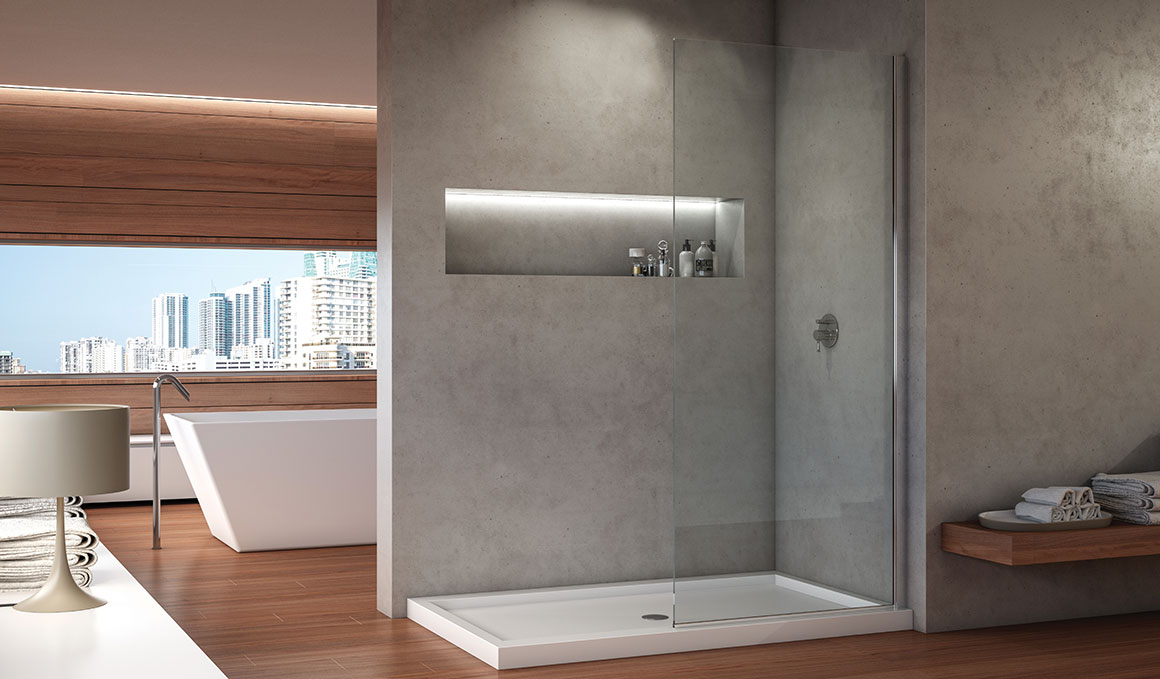 How do we create the bathrooms of our dreams? By seeking out expert help, of course.
The team at Fleurco is here to tell you all about one of our favorite ways to dress up your bathroom: the walk-in shower. In fact, we've got 12 ideas to help you envision your ideal bathroom and find what will work for your space and desired aesthetic.
But before we get started…
What is a Walk-in Shower?
Generally, a walk-in shower is a shower room without the traditional shower screen or curtain. There is no enclosure, you just walk in the shower without having to open or close anything.
This also typically means there is no tub to step into, but the definition for the walk-in shower is quite flexible. In general, for our purposes here, we're talking about open and fully tiled showers, although we have thrown in some ideas if you have a tub as well.
Who Are Walk-in Showers For?
Anyone who wants to elevate the look and feel of their bathroom as well as create a more european shower experience.
We believe your shower should be your escape. The perfect place to relax, collect your thoughts, and of course, get clean. Maybe your shower isn't quite the serene personal spa you dreamed it would be—your place for washing, aromatherapy, and a little daily meditation.
But it can be! Try out these walk-in shower ideas to create the perfect zen escape.
---
1. Upgrade To A Fixed Shower Panel
Ditch that shower curtain that is just impossible to keep clean and opt for a fixed shower panel instead. It's low maintenance, elegant, and provides a barrier from your shower to the rest of your bathroom without making the room seem smaller. Your shower will be slightly enclosed without feeling closed in thanks to the beautiful clear glass panel. The fixed panel provides an open, welcoming touch that elevates your shower and allows you to step right in.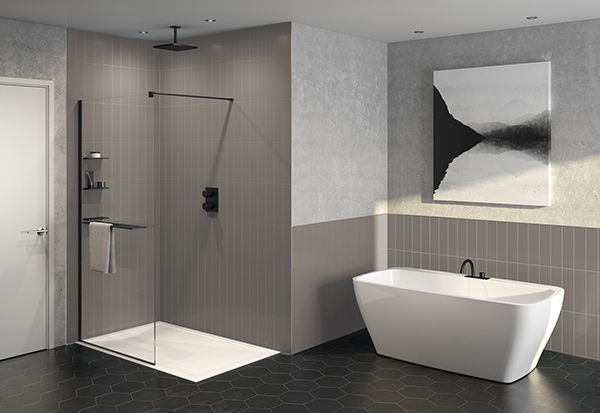 2. Switch To A Shower Tub Panel
Even if you have a tub, you can still switch from a curtain or sliding door to a fixed panel. And actually — you have even more reason to. The fixed panel allows you to step in and out of the shower without having to move anything out of your way.
By eliminating a curtain, you'll upgrade your shower and reduce maintenance. Simply put: the fixed glass panel looks clean and will stay clean, too. Transform your bathroom with ease and convenient functionality.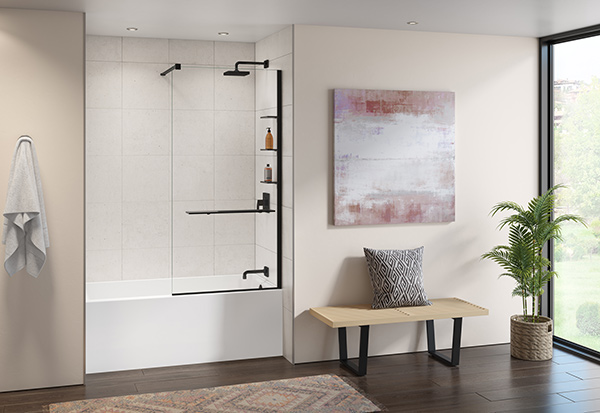 3. Add Lines With a Matte Black Finish
The clear glass panel is classic, but if you want to add some lines and texture to your shower panel, consider a matte black finish. The matte black gives depth to your shower and makes the bright colors in the rest of your room pop. This shower panel is low-maintenance and offers some understated style.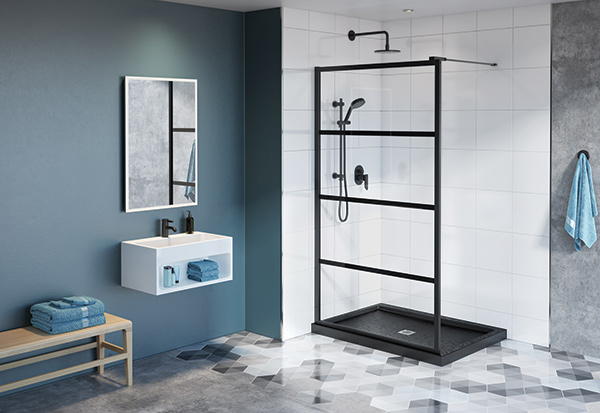 4. Clear Glass
Don't overthink this one — stick with clear glass for that fixed panel in your walk-in shower. Clear glass gives your bathroom a clean, airy, open, and inviting feel.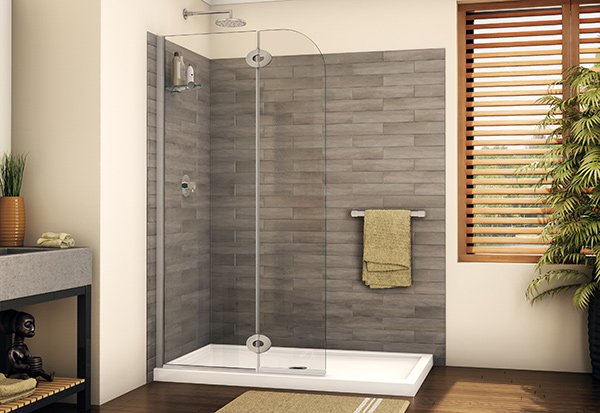 5. Pivoting Shower Panel
If you prefer having a bit more of a doored-entry feel, consider a pivoting shower panel. A pivoting panel offers some enclosure with modern appeal and a semi-frameless design. You get the beauty of glass and the simple functionality of a pivoting door. This offers your bathroom an elegant and innovative look.
6. Spa-like Walk-in Shower
Use your fixed glass panel to create a spa-like shower inside your bathroom. With the fixed glass panel, every shower feels like a spa treatment. Just step right in. Your shower becomes the centerpiece of your bathroom and more of an experience than a quick in-and-out daily necessity.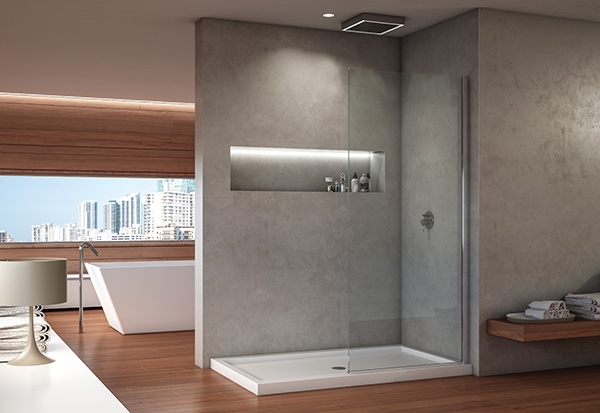 7. White Marble Aesthetic
When you think of white marble, the first thing that comes to mind is likely kitchen counters, but why not for your bathroom as well? And not just your sink and vanity — use white marble for the walls in your walk-in shower as well. Nothing says class quite like white marble, let it add some beauty to your bathroom too! The sleek and contemporary glass shower panel is a perfect highlight of the beautiful marble walls. The transparent design gives your bathroom a modern and classy look while seamlessly blending in with the natural white marble.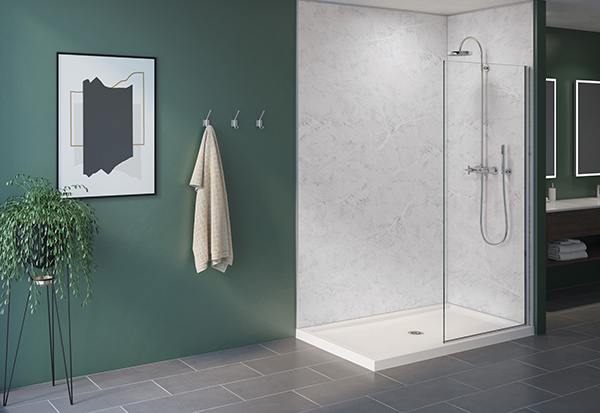 8. Ocean Blue
What creates a calming spa-like vibe more than ocean blue? With a clear glass panel, the color becomes the showcase of your shower. Give your walk-in shower a tranquil open aura with this relaxing ocean blue color palette and a pivoting shower panel. You'll create an immersive shower experience that proves color therapy is indeed very real. Your pivoting glass panel and ocean blue wall offer just the peaceful environment and the ultimate soothing shower experience.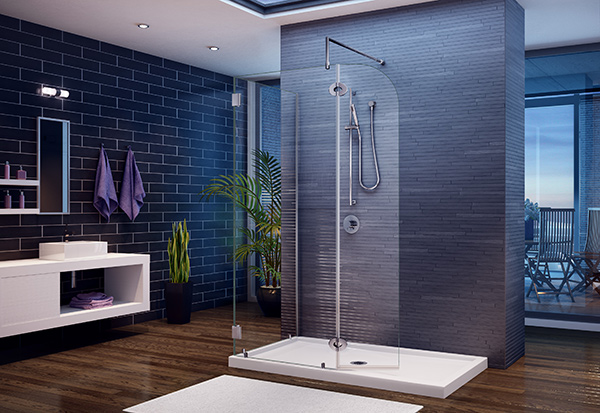 9. Pivoting Bath Tub Panel
Another way to dress up your walk-in shower if you have a tub is to add a pivoting tub panel. These panels pivot 180 degrees, so you can swing the panel all the way open when you want to have an open-air feel during baths, or close it up for shower mode. You'll enclose your shower without making the bathroom feel smaller. Add a more sophisticated style to your bathroom with a pivoting tub panel.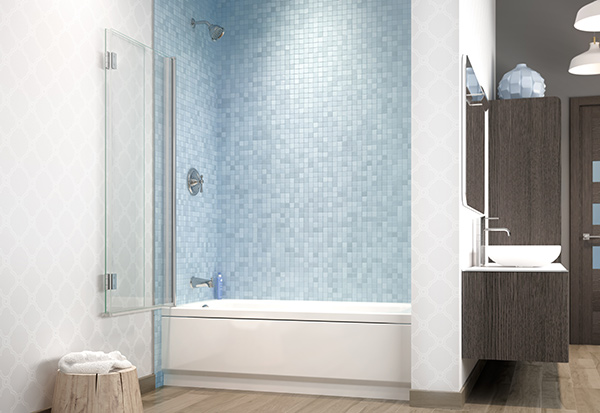 10. Industrial & Modern
Industrial and modern fixed glass panels offer a minimalist, modern chic look to your shower. The double panels give the feeling of enclosure without even needing a door. You can still step right in and create a more enjoyable shower experience.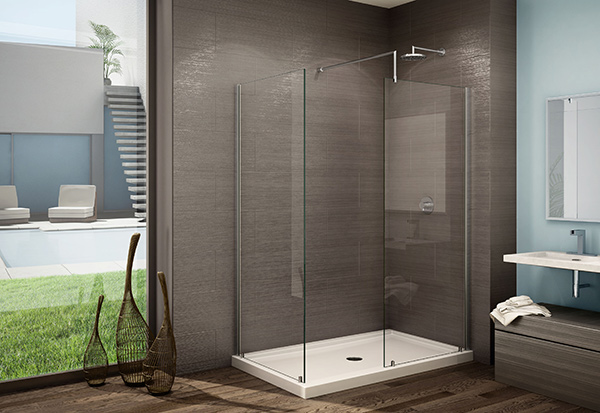 11. Dark Accents
This European style, pivoting square-top shower shield provides beauty and function without taking up floor space. The hinged door helps you close yourself in for more intimate shower moments or keep things wide open. Add dark accent shower bases for a more stylish shower that compliments most color palettes. Your glass panel showcases it all.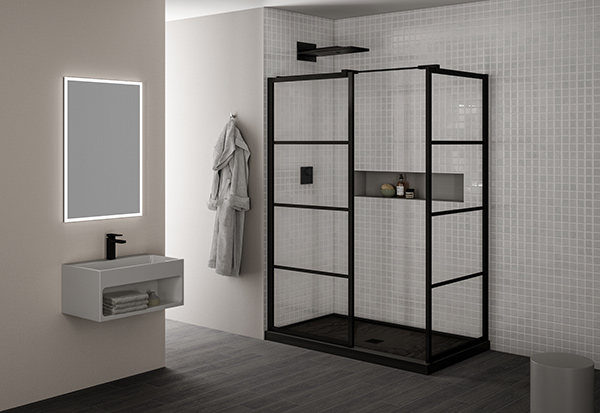 12. Glass Enclosure
When you want a full enclosure but don't need the privacy, a full glass enclosure is the move. Clear glass, no stains, no curtains to pull, just a pivoting door to get in and out that rests back into place when you "close" the door as you enter. These enclosures help enrich the calming sounds and aromas of your shower by creating a steamed and acoustic environment. That, and they'll add timeless beauty to your bathroom.
---
Summary
These are 12 tried and true ideas to take your bathroom style to the next level. Whatever option you choose for your walk-in shower, the team at Fleurco is here to help you build the bathroom of your dreams. Each design element above adds a sense of calm and relaxation to your bathroom in addition to enhancing the overall look of your shower experience.
Ready to create the walk-in shower of your dreams? Dig into our innovative and elegant product line or reach out to us with any questions about your shower needs. We're here to help!