There's no question that black is always in style but this hue has taken center stage when it comes to interior design. The bathroom is no exception to this color trend with matte black hardware becoming more popular and accessible.
Reflective chrome, nickel and bronzed colored hardware are taking a back seat to sleek, dark fixtures that appear unfinished. Matte black is always sophisticated and in style, no matter the venue. In fact, it's listed as the first of 10 bathroom trends in 2018 according to House & Home.
Matte black can add instant drama to your space. Its velvety finish adds richness and sophistication and works with a variety of bathroom design styles. From rustic farmhouse to modern simplicity it can complement any interior to make a big, bold statement.
A few examples include: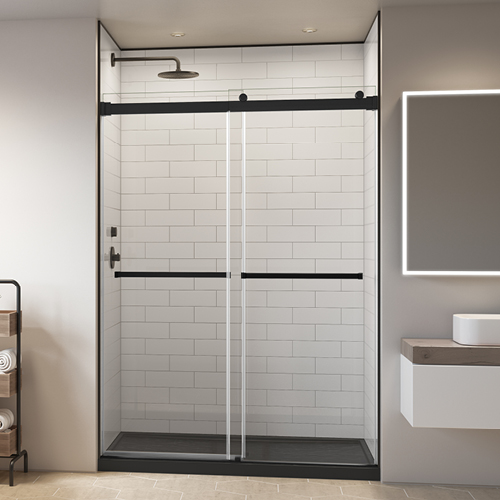 Black and White – Next to a gloss white sink or simple white tiles, matte black is high contrast.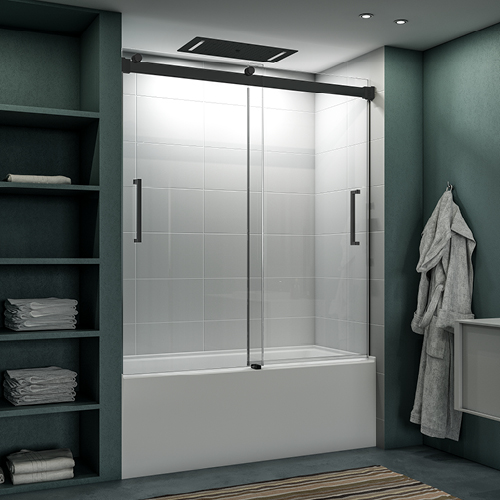 Black and Jewel Tones – Paired with warm purples, greens and teals, matte black hardware adds an extra layer of richness.
Black and Pastels – The contrast of black on pinks and blues has a modern retro feel, reminiscent of the Art Deco era.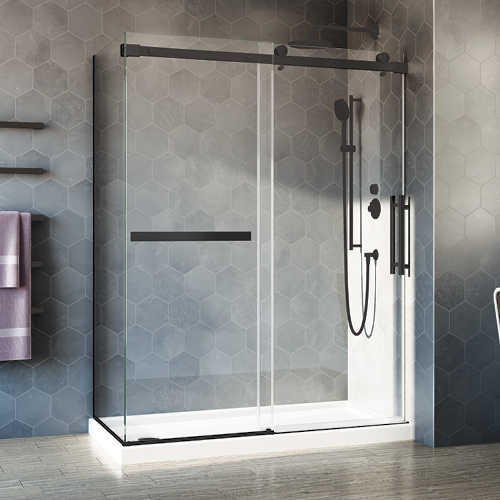 Black and Patterns – Mix bold wallpaper or tiles with matte black hardware. It will ground your bathroom space while allowing your pattern to pop.
Fleurco's glass shower door collection now features close to 50 models with beautiful matte black finishes to showcase this trend. The Gemini Plus is a perfect example that features two sliding doors that open either to the left or right. Matte black finishes stand out on the two long handles as well as the rails and bearings. Also, the Apollo is a European style, sliding frameless door with a built-in door stop. A modern matte black handle complements the shower railings.
The model we are most excited about is our Latitude shower doors. Latitude is a virtual grid, sliding or pivot shower door that's versatile enough to fuse with several different décor tastes. From the clean, contemporary, to the Urban-edgy to the Art Deco look, Latitude fits right in with it's striking stature design and matte black finish. Fleurco recently introduced the bold Caro shower door. Inspired by 20th Century abstract art, Caro combines style and functionality with it's unique matte black and mist squared design.
The matte black finish doesn't stop at shower doors. Fleurco offers a wide variety of matte black bathroom accessories. Mix & match from our Veritas Mod collection, or mix style with functionality with our Veritas Premiere collection. Add a Luna Solis Lighted Mirror and your bathroom is complete! With a matte black metal frame, Solis is sure to add that touch of elegance to any décor.
"Matte black finishes echo what we are seeing in urban architecture," says Karina Schatz, Fleurco's Director of Industrial Design. "Matte black references materials from yesteryears like forged iron and hammered metal. These colors and textures are fused with new technologies for the best of traditional elements, with a superior performance and durability."
Contact us to learn more about our matte black collection.