In the evolving world of interior design, a bathroom is more than a mere functional space, it's becoming a sanctuary for relaxation and rejuvenation. Homeowners are increasingly investing in bathroom design, seeking innovative ways to transform their everyday room into a luxurious home spa. One of the most captivating trends on the rise in bathroom design since 2021 is the use of brushed gold, a matte finish that reveals sophistication and embodies the essence of modern luxury.
In fact, it's not just a passing trend, according to Decorator's wisdom, brushed gold is expected to be a prominent trend in bathroom design through 2024! Its versatility is one of the key reasons for its rising popularity. Whether you're aiming for a modern minimalist look, a more traditional timeless style, or anything in between, brushed gold seamlessly blends into various design aesthetics.
"Brushed gold creates a visually appealing contrast with other bathroom materials like marble, stone and porcelain, and it goes well with almost all colors." says Julie GoWoon Hong, Fleurco's senior industrial designers, "This contrast adds depth and character to the bathroom, making it a truly distinctive space."
---
Let's explore some examples of how Brushed gold is incorporated into different design styles:
1. Classic White & Gold
This design style reveals timeless elegance, making your bathroom feel like a luxurious spa. The brushed gold finish stands out as a focal point against the white surroundings.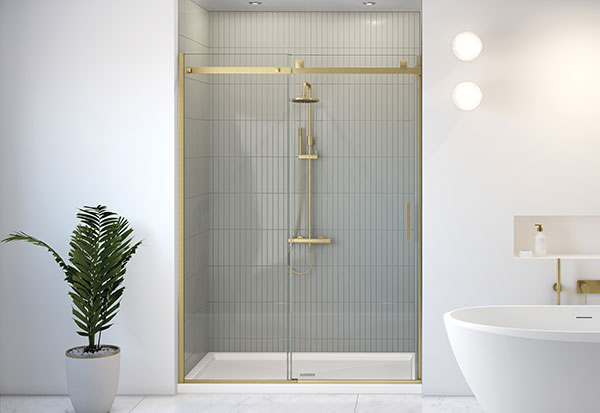 2. Modern Monochromatic
For a sleek, contemporary look, use black and white as the dominant colors. The brushed gold finish adds a warm, sophisticated undertone.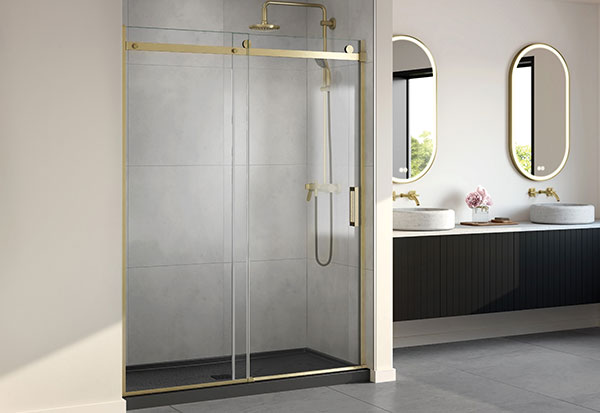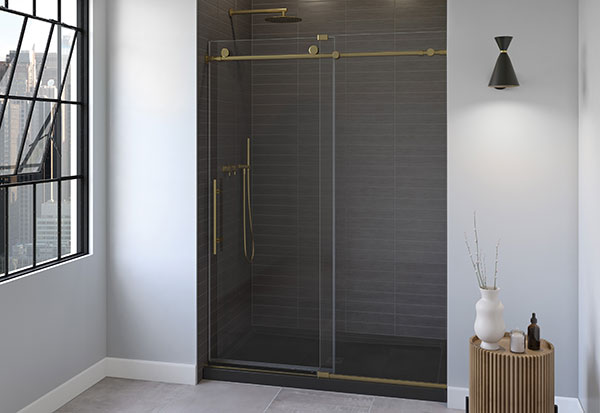 3. Natural & Earthy
Create a calming and organic ambiance by pairing brushed gold with natural elements. This style is perfect for those favoring a more rustic or bohemian vibe.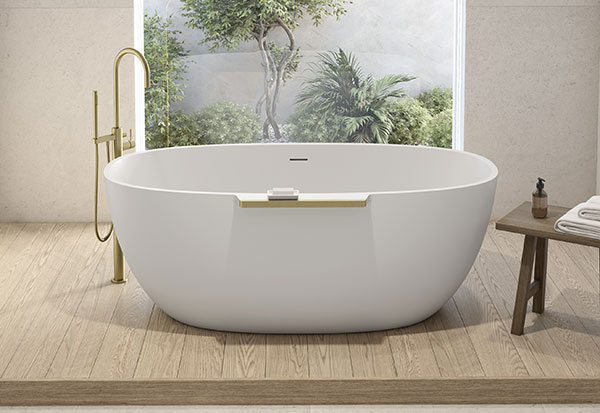 4. Romantic Retreat
Use soft and pastel hues with brushed gold accents. This combination creates an intimate and dreamy ambiance.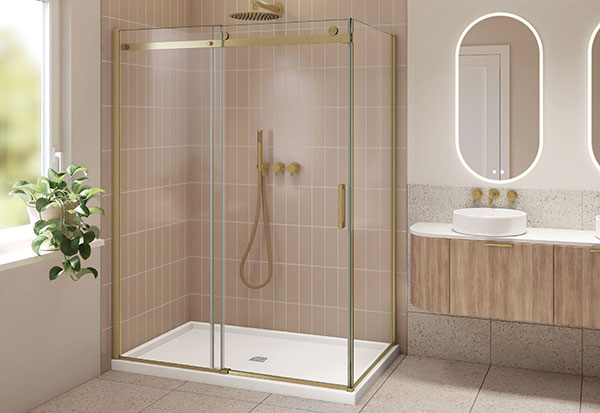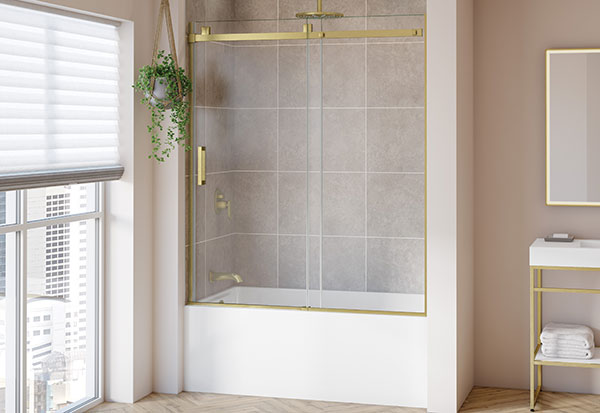 5. Minimalistic serenity
Use brushed gold accents with soft neutrals like light grey or beige to achieve a tranquil and clutter-free bathroom with a minimalistic approach.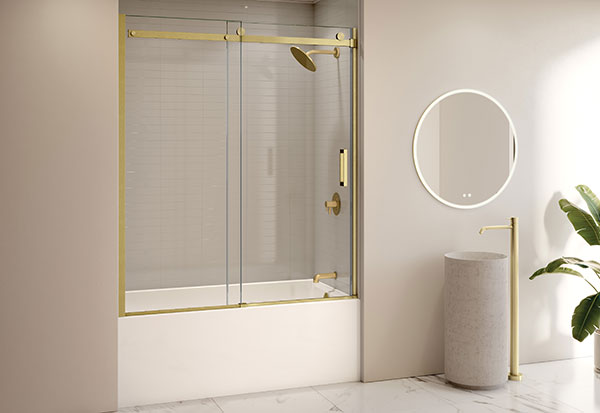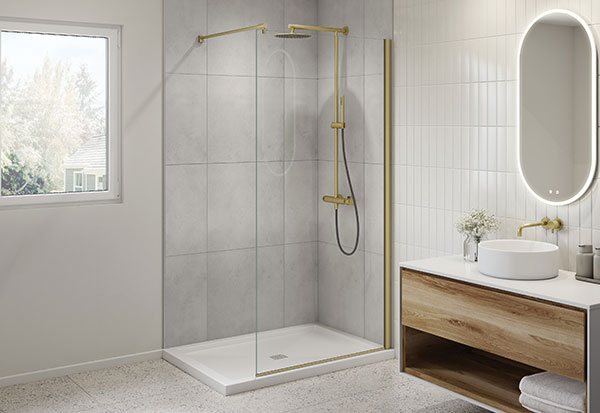 ---
"The brushed gold was initially used for faucets or accessories. With time, it was able to evolve and make the jump to furniture, vanities & shower doors." says Karina Schatz, Fleurco's Director of Industrial design.
Considering the fact that brushed gold is becoming more dominant in bathroom design, Fleurco has expanded its brushed gold collection, embracing a variety of new models and collections, from shower doors, bathtubs, vanities to LED mirrors. Here are some products that will highlight the lavish look in your bathroom.
Shower Doors
The All-new Vespero Walk-in is a great example that features a fixed shower panel elegantly framed in a brushed gold finish, perfect for those who like ultra-modern European design. Other Walk-in Shower doors that are now available in brushed gold are Station & Select LexusStation Plus. If sliding shower doors fit your bathroom better, then we invite you to explore our Horizon, Skyline & Select K2 collections with the NEW brushed gold finish that will turn your bathroom into a luxurious haven.
Bathtubs
The New ARIA STONE bathtub Collection offers two models, Lucia & Lukas, that reveal the beauty & sophistication of the brushed gold finish, enhancing the spa-like feel of your dream bathroom.
Vanities & LED Mirrors
Spreading the warm & inviting allure of brushed gold across your bathroom, Fleurco is now presenting its Luna STAK vanities Duo & Trio in this soft charming finish along with two New LED mirror models, the Artus & the Magna, to radiate opulence from every angle.
Conclusion:
Stepping into the brushed gold trend is an investment in timeless elegance combined with contemporary aesthetics. With Fleurco's exquisite products, you have endless possibilities to create a complete glamourous look in your bathroom, ensuring that each day begins & ends in a space of sophisticated tranquility.